The temple of Lord Jagannath remains a point of controversy since its outer wall is plain and white washed, unlike other artistically carved outer walls of Lord Lingaraj temple, Sun temple of Konark, Mukteswara temple etc. The white washed plian surface devoid of any artistic workmanship prompted scholars to believe that the temple is plain because there was degradation of artistic skill.The reality is something else.The temple is carved with a thick coat of plaster,around 16th century A.D., it was applied to save it from further deterioration due to saline weather and wear and tear of ages. Even in the complex all the medium and minor temples are too added with plaster to have smooth surface for annual colour washing as done with main temple during festive occasions.Others believe that the plaster was added after it was desecrated by the Muslims and lime wash purified it again.
The maintenance of the temple was vested with the temple administration,but constant leakage and other structural problems prompted State Government to handover the protection and preservation responsibility to Central Government i.e. Archaeological Survey of India in 1974.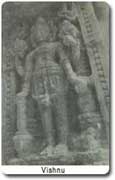 God Vishnu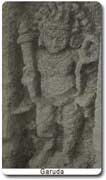 God Garuda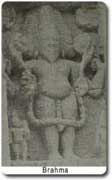 God Brahma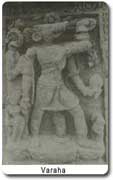 God Varaha
A committee was constituted in the name of "Jagannath Temple Expert Committee" to provide guidance,to Archaeological Survey of India and in the first meeting itself,Dr. M.N. Deshpande,the-then Director General of Archaeological Survey of India informed to the august gathering that the plaster existing on the outer wall is to be romoved as it became porous and spongy,danger for the very stability of the temple.The test check made,revealed that underneath this thick plaster beautiful carvings are existing.Inspite of great protest of the conservative Pandas and Public,deplastering scheme was formulated.
The deplastering work undertaken by Archaeological Survey of India since 1975 on the outer wall of Lord Jagannath temple at Puri has unveiled nither to many unknown artistic and iconographic features.It will not be an exaggeration if it is termed as a veritable museum of art and architecture.The age-old belief that Jagannath temple is devoid of carvings was proved baseless and deplastering work proved successfully that the temple is having much more intricate carvings with full of artistic and iconographic representation not only connected with Vaishnavism but also those of pan-Hindu or cosmopolitan Hinduism as images of Siva, Ganesh, Goddess Kali, Brahma and Composite icons of Brahma and Vishnu are incorporated within niches of miniature sikharas that are added on outer wall Anurahapages.Even within Lord Jagannath temple complex,the temples dedicated to Siva,Sakti,Ganapati,Surya also justify its cosmopolitan charecter.
On the lower part of the temple over the horizontal panels is running parallely all around the temple known as Vasanta is carved with the mythological stories of Shrikrishna legends,like Kaliya Damana(killing of snake demon-kaliya).Giri Goverdhana, Bakasura Badha, Rashlila, Krishna in the company of Gopis, Krishna's fight with Kamsa, Krishna's move towards Dwarka from Mathra, etc. On the lower jangha miniature sikharas are added over the prominent projections and images of Dikpalas are incorporated.On the upper jangha portions of the temple, with the miniature pidha mundies, the ten incarations of Vishnu are also incorporated.
Page 1 || Page 2