| | | |
| --- | --- | --- |
| The Orissan temple architecture which made an humble beginning before the Sixth Century A.D. had reached its pinnacle of perfection by the time the temple of Jagannath was built. According to tradition, the temple was originnaly built by Yajati Kesari (Yajati-II of Somavansi dynasty) on the site of the present shrine. Another tradition attributes the construction of the temple to Anangabhima Deva, grand son of Anantavarman Chodaganga Deva.But the epigraphical records full support that it was Chodaganga Deva (1112-1148 A.D.) who built the present temple (The Sanctuary and the porch). | | |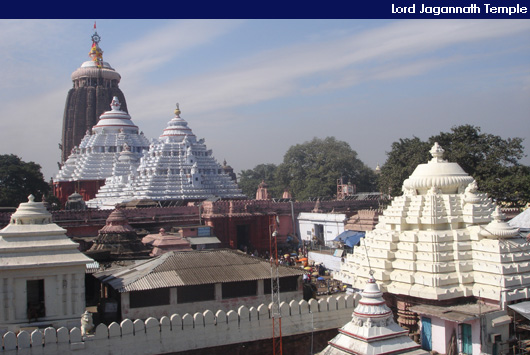 View Jagannath Temple Old Photo Gallery
View Jagannath Temple New Photo Gallery
The temple makes Puri as one of the Char Dham of India, four cardinal centres of pilgrimage. After travelling the three Dhamas i.e, Dwarika in the west, Badrinath in the north and Rameswaram in the south the pilgrims visit this place known as Jagannath Dham. The famous temple of Lord Jagannath is named as Jagannath temple, because these four letters ja, ga, na, tha indicate respectively Lord Jagannath, Lord Balabhadra, Goddess Subhadra and Sri Sudarshan called as Chaturdha murti. It is mentioned in Sishu Samhita:
"'Ja' karastu Jagannathah
Balabhadra 'Ga' karakah,
'Na' kara Subhadra rupa cha
'Tha' karopi Sudarshanah."
| | | |
| --- | --- | --- |
| | | The exact geographical location of the temple of Jagannath is lat. 19 18'17" and long. 85 51'39".Among the existing temples in Orissa, the temple of Jagannath is the highest.The temple (214 ft. 8 inches high from the road level) is on a perfect pancharatha plan. All the paraphernalia of feudal pomp and splendour observed in the daily life of the emperors or potentates of old can be noticed in the daily worship of Jagannath. The temple contains some of the finest specimens of Orissan architecture and sculpture. On the outer walls of the temple, thick layers of plaster had benn applied to save the beautiful works of art from the damaging effects saline air, which are now being removed, revealing exquisite sculpture depicting life of Krishna. |
The Jagannath temple is a complete example of the fully developed Kalinga style,having all the four essential arts the Deul or the sanctum sanctorum, the Jagamohana or the Audience Hall,the Nata Mandapa or the Dancing Hall and the Bhoga Mandapa or the Hall of offering.
Aerial View of Jagannath Temple
Inner wall, Outer wall and the four gates of Lord jagannath Temple