Hera Panchami is a unique festival associated with famous Car festival of Puri. 'Hera' means to 'see' and 'Panchami' means the 'fifth day'. It is celebrated at Gundicha temple on the fifth day from the start date of the Car festival. This festival is dedicated to Goddess Mahalaxmi and is also known as a ritual of Goddess Mahalaxmi. The temple of Lord Jagannath is known as Srimandira. "Sri" means Laxmi, so the name of the temple as "Srimandira" signifies the fact that Goddess Mahalaxmi is the principal Goddess of the Grand Temple. This ritual highlights the separation of Mahalaxmi from Lord Jagannath.
On the Car festival day, Lord Jagannath leaves the Jagannath Temple and goes to Gundicha Temple for 9 days with his siblings and His consort Mahalaxmi is left behind in the main temple. The popular belief is that Lord Jagannath had promised his wife Goddess Mahalaxmi that He will return the next day. But Lord Jagannath does not return the next day. Goddess Mahalaxmi waits and 5 days have been passed but Lord Jagannath did not return to the temple and there is no information about Him.
Goddess Mahalaxmi after waiting for 5 days becomes impatient and worried. At last, She makes up Her mind to meet Lord Jagannath in Gundicha Temple where He has currently based with His brother & sister. At night the representative idol of Goddess Mahalaxmi (known as Subarna Mahalaxmi) went to Gundicha temple in a beautifully decorated palanquin via Bada Danda (the Grand Road) in a colorful procession in pomp and splendor, accompanied by her servitors, to meet Lord Jagannath and to ask Him why he had not returned yet. The people & servitors who are part of the procession of Goddess Mahalaxmi sing the Hera Panchami song. The Hera Panchami song expresses Goddess Mahalaxmi's anger towards Her husband. After knowing that Goddess Mahalaxmi is coming to meet him with anger, Lord Jagannath asks his servitors to quickly lock the door of Gundicha Temple.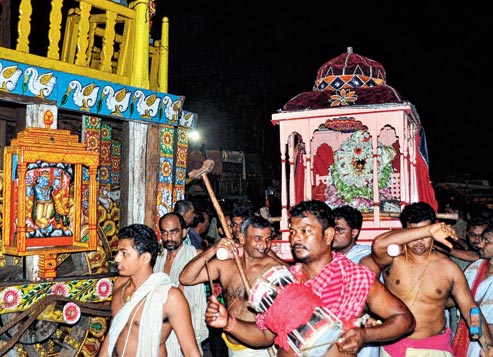 Goddess Laxmi in decorated Palanquin
Image Source: http://www.nabakalebara.gov.in/newsDetails/In-News/130
Goddess Mahalaxmi became very angry due to this activity and passed some satirical remarks to Lord Jagannath by saying, "My husband!!! You have become more attracted to your brother Balabhadra & sister Subhadra than me? Is this the reason you locked me out of the Gundicha temple?" Goddess Mahalaxmi feel insulted and to teach Her husband a lesson She asks her servitors to break a part of Nandighosa Ratha, the chariot of Lord Jagannath. On her return She avoids the direct route via Grand Road, and secretly returned to the Jagannath temple via Hera Gohiri Sahi of Puri. The unique ritual is enjoyed by large number of devotees of Lord Jagannath.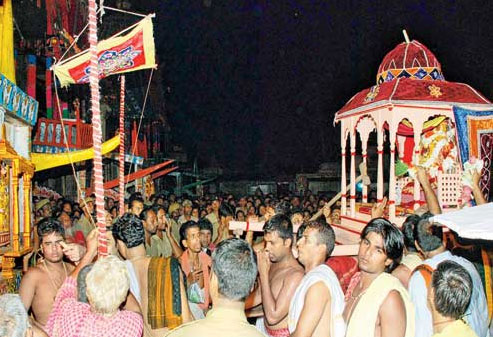 Goddess Laxmi approaching towards Nandighosa
Image Source: http://www.telegraphindia.com/1120626/jsp/odisha/story_15655745.jsp#.WAnRoFLl_cs
According to temple history, Hera Panchami festival was celebrated in this manner during the time of King Kapilendra Deb. Earlier, Hera Panchami was being observed in a symbolic manner with recitation of Vedic Mantras only. It is also stated in Madala Panji that it is King Kapilendra Deb, who changed this practice by introducing a gold idol of Mahalaxmi and thus transformed the entire divine practice to an full-fledged ritual in an organized and realistic way.