Puri is not just famous for its annual Car Festival, Jagannath Temple & sandy sea beaches but is also a fantastic place for shopping. Puri has a rich collection of wonderful stuff including textiles and handicrafts. Weaving saris is a traditional craft of Odisha. Even in Puri you would find many Government and private outlets dealing in textiles where shoppers flock in large numbers. Do check out the exquisite passapali, bomkai, sambalpuri and ikat saris while shopping in Puri. Handicraft items including palm leaf engraving, silver filigrees, horn work, pattachitra, coir products, metal ware, appliques, sea shell items, stone statues, wooden statues, papier mache masks and solapith are available at Government emporiums, private shops and bazars of the city. You can also find a wide range of utility products and decorative pieces in textiles including canopies, blinds, and garden & beach umbrellas.
Being a beachside destination, shells and oyster are available in abundance in Puri. Over the years the ace craftsmen have perfected the art of making artefacts out of shells and oysters. A variety of utilities, decorative showpieces are definitely a feast to eyes and may leave you spoilt for choice. Do pick up few sea shell items while shopping in Puri.
Like in any other tourist place in India, many taxi and auto rickshaw drivers may take you to their pre-planned stores to earn commissions on the exaggerated purchase price, and may give you wrong suggestions not to go to reputed and cheaper stores, so be aware that this type of practice is also be present in Puri. Your shopping in Puri may turn out to be a true pleasure if you are comfortable with a little bit of bargaining.
Below are some of the famous shopping places in the city and near Puri, please check them out.

Shopping Places In Puri
Utkalika
Odisha State Co-operative Handicrafts Corporation Ltd which is commonly known as Utkalika. Utkalika outlet is located in Grand Center market complex, near Jagannath Temple. At Utkalika you will find almost all varities of textile and handicraft items at resonable price including Applique Work, Art Textiles, Brass & Bell metal, Cane & Bamboo Craft, Dhokra Casting, Golden Grass, Horn Works, Palm Leaf Engraving, Paper Mache, Pattachitras, Sabai Grass, Silver Filigree, Stone Carving, Terracotta, Tribal Jewellery, Wood Carving. No bargaining is allowed here as this is a Odisha State Government owned shop with fixed price for all items.
Sudharshan Workshop
Sudharshan workshop is famous for stone carving and is located at the Station Road near Puri Zilla School and has a variety of items like stone & wood carvings of various religious deities & exotic sculptures, handicraft products and paintings.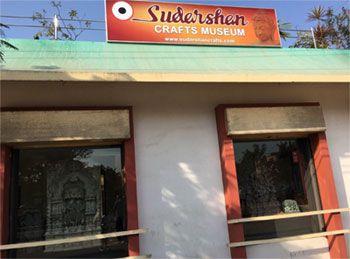 Sudarshan Crafts Museum, Station Road, Puri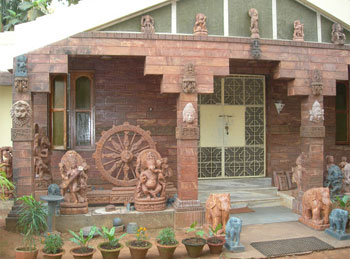 Sudarshan Crafts Museum, Station Road, Puri
Pattachitra Center
Pattachitra Center is famous for pattachitra & palm leaf engraving. It is located on Nabakalabara road of Puri. Though it is famous for pattachitra, but you will also find other handicraft items like stone statues, wooden statues and various types of paintings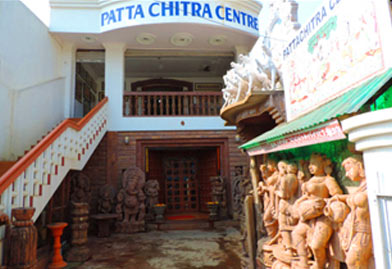 Pattachitra Center, Navakalebara Road, Puri
Priyadarshini
Priyadarshini is located at V.I.P roard of Puri and is very famous for handloom items and handicraft products. Priyadarshini is one of the finest Odisha handloom woven in cotton and silk. Claiming to be Odisha's top weaver's, Priyadarshini will not disappoint you with its wide-range of collection including sarees and dress materials. Right from the traditional temple borders and geometric designs to the exquisite fabrics like Tusser, Sambalpur and Ikat named after the Odisha regions, the colorful variety is a treat to watch and elegant to drape.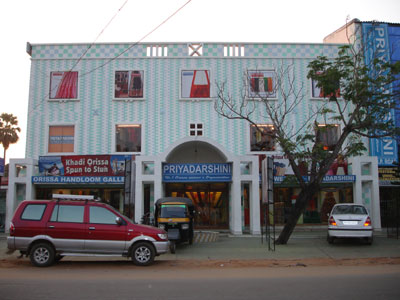 Priyadarshini, VIP Road, Puri
Sun Crafts
Sun Crafts is located at V.I.P roard of Puri and is very famous for wooden Jagannath figures. You will find Jagannath figures in almost all shopping places in Puri, but the finishing and quality produced by the artisans at Sun Crafts is unmatchable. You can also place order for the figures as per your requirement and they will make it for you. You will also find pattachitras & plam leaf engravings here.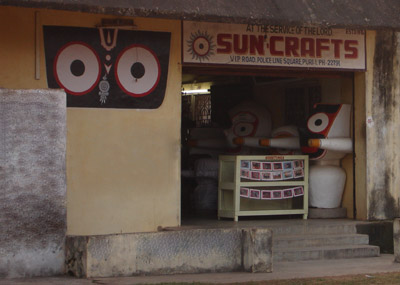 Sun Craft, VIP Road, Puri
Grand Road (known as 'Bada Danda' in local language)
Grand Road is the main road in front of Jagannath Temple's lion's gate. All the way down the Grand Road outside the Jagannath Temple, you will find shops selling rudraksha (holy seeds), sandalwood beads, images of Lord Jagannath, brass idols, paintings on coconut, wooden replica of chariots and other devotional items. You will find other shopping complexes like Grand Center, Sahoo Super Bazaar, Nayak Plaza, Suriya Complex, Jagannath Ballava Market Complex and Laxmi Market Complex on the Grand Road. You will find amazing collection of fancy apparels, cloth items, handicrafts and lovely souvenirs in these market complexes. You will find the same item with different price tags in these market complexes so please do bargain during shopping.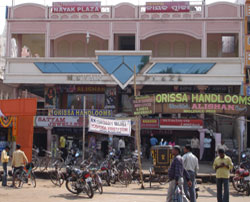 View of Nayak Plaza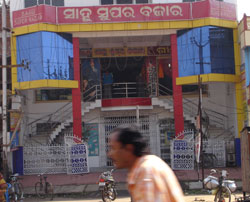 View of Sahoo Super Bazar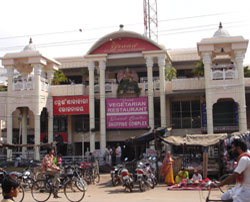 View of Grand Centre Complex
Sea Beach Markets
There are three major places near to Puri sea side where you will find most of the crowds, these three places are Penthokota area, area in front of Puri hotel and Swargadwara area. You will find most of the shops & stalls in these areas selling sea shell items made out of shells and oysters and handloom products. During evening you will find lot of vendors moving on the beach and selling cronch shells and other decorative items. Sometimes you will get good price from these vendors as compared to shops for same item.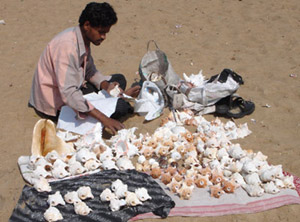 Vendor selling cronch shells on Puri beach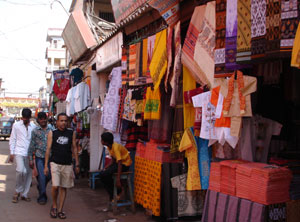 View of Swargadwar Market

Shopping Places Near Puri
Pipili
Pipili is on the way from Puri to Bhubaneswar and is best known for the gorgeous applique work. It is 40 kilometers from Puri, at the junction where the Konark road branches from the Bhubaneswar to Puri road. It is a small village. On the main road at Pipili there are many shops at both side of the road selling Applique work products, tourist visiting Puri buy these products from Pipili. Pipili village is famous in Odisha as well as in India for its applique craft. Almost every family of the village engaged themselves in this applique craft.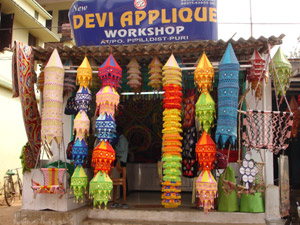 View of Pipili Market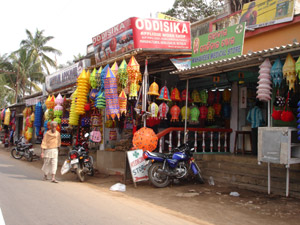 View of Pipili Market
Raghurajpur
Raghurajpur, a small village in Puri, occupies a unique place in the cultural map of India. It is famous for its master Pattachitra painters. To reach Raghurajpur one has to get down at Chandanpur bus stop, which is about 10 km from Puri. From Chandanpur one has to take a cycle-rickshaw or walk on a 1.3 km scenic road to reach this village. You can also hire a taxi from Puri to reach the village. The outer walls of most of the houses in this village are wonderfully decorated with mural paintings of mythological scenes from the Ramayan and the Mahabharat. The primary art of this village is Pattachitra, but apart from this, the village has a community of artisans, who produce different varieties of handicrafts items such as palm leaf engravings, stone carvings and tusser paintings. "AT Raghurajpur, every villager is an artist and every house is an artist's studio." Here, art is not just a profession or passion but it is a way of life.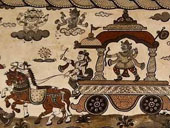 Painting on Raghurajpur House wall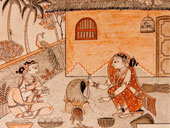 Painting on Raghurajpur House wall