EATING OUT IN PURI
---
Puri is traditionally famous for its mouth watering foods. The city shows off a huge menu that spans across different varieties of rice, lentils, desserts and seafood. As a coastal town, seafood is the stronghold of Puri's cuisine.
Jagannath Temple in Puri is famous for running the biggest kitchen in the world. Everyday, throughout the year fifty six varieties of dishes are prepared and offered to the Deities of the Jagannath Temple. Mahaprasad and other offerings made to the deities are sold to public in Ananda Bazar on the north-east corner of the outer enclosure of the Jagannath temple, where every day thousands of pilgrims buy and eat the holy Prasad.
If you take the road from lion's gate of Jagannath Temple to sea beach via khaja pati then you will find lot of local sweet shops selling traditional sweets dishes like 'Chhena Poda', 'Rabri', 'Chhena Jhili', 'Rasabali', 'Rasagolla', 'Kheera', 'Maalpuaa' etc. If you are fond of sweets please enjoy some sweet dishes from these shops. You will also find sweet shops on this road selling the famous 'Khaja' sweets of Puri.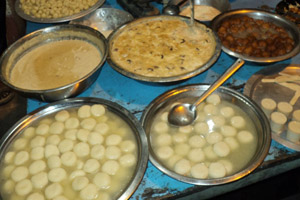 Sweet Shop in Puri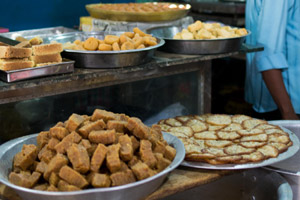 Sweet Shop in Puri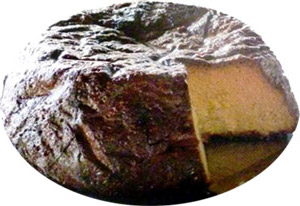 Chhena Poda Sweet of Puri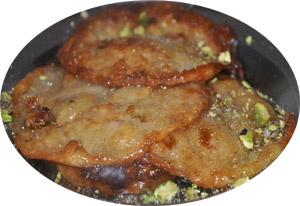 Maalpuaa Sweet of Puri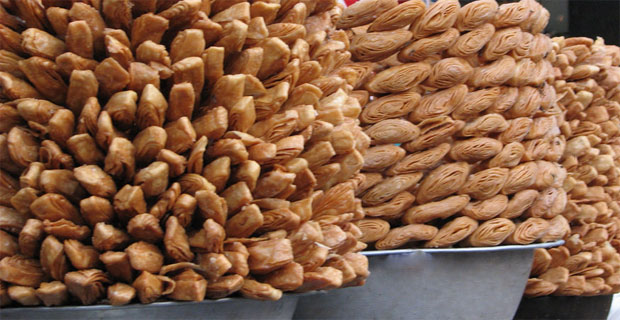 Famous Puri Khaja Sweets
On the Grand Road (Bada Danda) of Puri from Jagannath Temple to Sree Gundicha Temple, you will find lot of restaurants & local shops selling the famous dish of Puri known as 'Dalma' (selected vegetables cooked with Arhar dal). This road is also filled with stalls of local vendors selling various food items during evening.
The Marine Drive road (road running parallel with the beach from Penthakata till Swargadwara), houses number of street stalls and road side small restaurants serving authentic fresh seafood dishes made out of prawn, crab and different type of fishes.
Cart with Fish, Prawn & Crab Dishes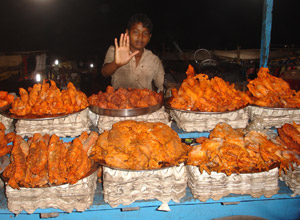 Cart with Fish, Prawn & Crab Dishes
You will find a good selection of eateries in Puri, from hotel restaurants to fast food chains. The restaurants in Puri offer a wide variety of food that you will definitely enjoy.