The Char Dham, is the four most famous Hindu pilgrimage circuit in India which are believed to be the abodes of Hindu gods. Located in the four directions of India, the circuit consists of four sites - to the north is Badrinath, to the west is Dwarka, to the south is Rameshwaram and to the east is Puri. Puri, popularly known as the Jagannath Dham, is one of the Char Dhams of India. Adi Sankaracharya, during his travels across the length and breadth of India, founded four mathas (monasteries) as seats of Hindu religion at these four places- the Sringeri matha on the Sringeri hills in the south, the Sharada matha on the Dwaraka coast in the west, the Jyotir matha at Badrinath in the north, the Govardhan matha at Puri in the east.
Each of the four dhams is a site of old temples and religious monuments, with one most important temple as its distinguishing attraction. At Badrinath the famous temple is Badrinath Temple and the presiding deity is Shri Badrinath (Vishnu). At Rameshwaram the famous temple is Rameshwaram Temple and the presiding deity here is in the form of a Linga with the name Sri Ramanatha Swamy. At Puri the temple is known as Lord Jagannath Temple and the presiding deity is Lord Jagannath. He is present together with His elder brother Balabhadra and His sister Subhadra. At Dwarka the main temple is The temple of Dwarkadheesh (Lord Krishna), also known as Jagat Mandir.
Each of these maths was assigned the task of maintaining and preserving for posterity, one of the four Vedas (the main scriptures of Hinduism). They are:

1. Sharada Math - Sama Veda
2. Shringeri Math - Yajur Veda
3. Jyotir Math - Atharva Veda
4. Govardhan Math - Rig Veda

All the Four Dhamas located at cardinal points of the Indian sub-continent are believed to have been liked by Lord Vishnu intimately. It is said and believed that He takes His bath at Rameswaram, meditates at Badrinath, dines at Puri and retires at Dwarika.
Location of Char Dham on India Map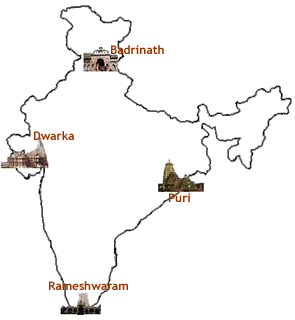 Char Dham of India Photos
Content Navigation
Last Page
Next Page