| | |
| --- | --- |
| Famous for | Temple of Goddess Harachandi and Sea Beach |
| Nearest Attractions | Chilika Lake, Satapada, Alarnath |
| State/Country | Odisha/India |
| Located at | Eastern Coast of Odisha |
| Distance From Bhubaneswar | 60 KM |
| Distance From Puri | 27 KM |
| Mode of Transport | Road (Bus and Taxi) |
| Nearest Airport | Bhubaneswar - 60 KM |
| Best Time to Visit | Round the Year |
| Local Language | Odia |
| Other languages | Hindi, Bengali and English |

Puri, the abode of Lord Jagannath, which is celebrated as a Vaisnava centre is also famous for its Sakta temples. Both inside and outside the premises of famous Jagannath temple there are several temples dedicated to Sakta deities such as Ramachandi, Laksmi, varahi, Harachandi, Daksina Kali, Shyamakali, etc. which indicates the popularity of Saktism at Puri. There is a temple dedicated to goddess Harachandi at 27km south west of Puri on the national highway 203 leading from Puri towards Brahmagiri and Satapada. On this road there is a place known as Kathuari chowk, from this chowk take a left diversion and after 5 kilometers you will reach village Palanka, this temple is located at a distance of 1 kilometer from the village Palanka. In Odia language 'Bali' means Sand & 'Harchandi' means angry form of Goddess Durga. This temple is dedicated to Goddess Durga and is mounted on a sandy hill near the ocean. Beach is very near to the temple which is another major attraction of this place. The exact geographical location of this temple is LONGITUDE 850 41' 39 E and LATITUDE 190 45' 28 N.
The temple is facing towards the east and the presiding deity is Asta-Bhuja (Eight-Armed) Mahisamardini Durga worshipped as Baliharachandi. Baliharachandi is also regarded as goddess of water and navigation, who protects the boatsman and fisherman, when confronted with danger in the sea. This temple has relation with the Sri Jagannath temple in respect of a ritual on the Mahanavami day in the month of Ashwina. Festivals like Navaratri, Durga Puja, Chaitra Mangala Bara, Ramanavami etc. are observed in this temple with great devotion. An image of Goddess Kali is found at the base of the back Rahapaga of the Baliharachandi temple near Puri. Here Kali holds a serpent. She holds a skull and a severed head by her left hands. She stands in Alidha pose on the body of Lord Siva. Baliharachandi temple is a protected monument of Odisha State Archaeology and under the Endowment Department, Government of Odisha.
Baliharachandi temple located at the beginning of the river Bhargavi is not just a pilgrim site but also a scenic spot. This place is also famous for stretches of sandy beach and the meeting point of river Bhargavi with the Sea. It attracts lots of tourist to enjoy the natural site of beach and to seek divine blessings and eternal happiness. The sunrise and sunset scene of beach is amazing for touristis. The tourists can also enjoy sunbath on the calm and quite sea beach of Baliharachandi. The scenic beauty of this place is ideal for group picnic. Baliharachandi, the well known tourist destination of Odisha, is worth a visit.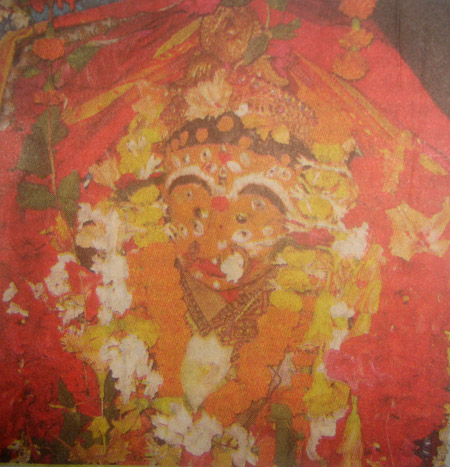 Presiding Deity Goddess Bali Harachandi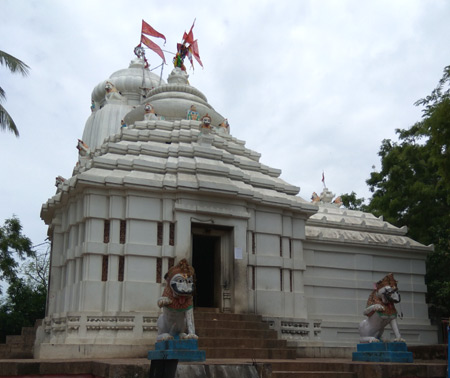 Bali Harachandi Temple
Bali Harachandi Temple Photo Gallary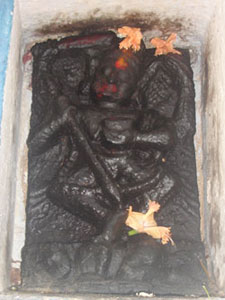 Deity on side wall of main Temple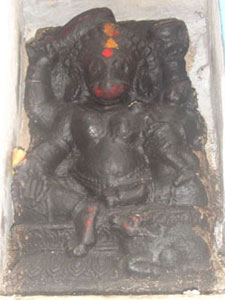 Deity on side wall of main Temple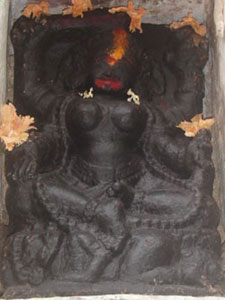 Deity on side wall of main Temple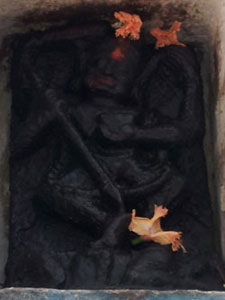 Deity on side wall of main Temple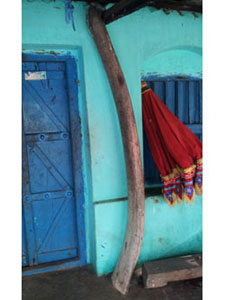 Whale tooth kept at Temple premises Tower of Main Temple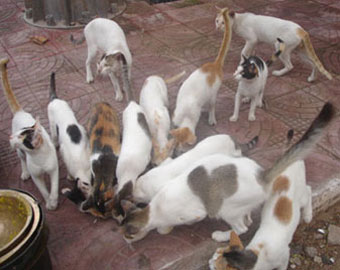 Cats at Temple premises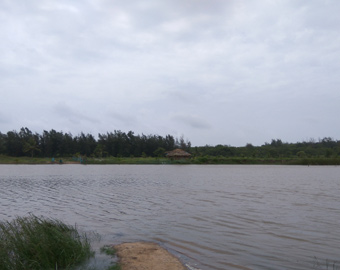 River Bed in front of Temple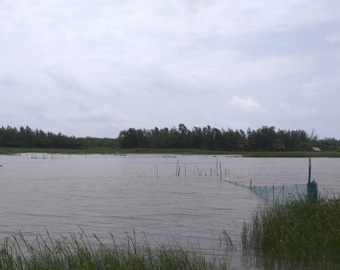 River bed in front of Temple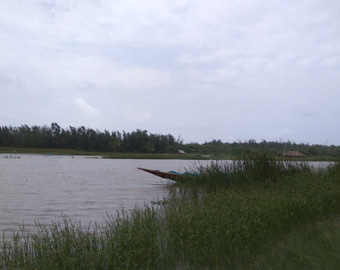 River bed in front of Temple


River bed in front of Temple