Situated almost on the midway of the grand road, at Balagandi square, there is a small temple dedicated to Goddess Mausima. Mausima temple is located on the right side of the Grand Road leading from the Jagannath temple towards Gundicha temple. She is called Mausima (the mother's sister) of Lord Jagannath. Mausima is a combination of two words, 'Mausi' and 'Ma'. In Odia language 'Mausi' means 'Aunt' and 'Ma' means 'Goddess'.
Goddess Mausima is also known as Ardhasini. It is stated in the Vaisanava Knadha of Skanda Purana that Mausima drank half the sea water that once over flooded Puri and saved the town of Puri. There for her name become 'Ardhasini' and the temple is also called as Ardhasini Temple. It is a belief among the local people that Goddess Ardhasini, together with Kapalamochana Shiva, act as the day and night guardians of Puri town.
Mausima temple is facing towards south and closely associated with the Car festival of Lord Jagannath. As per the rituals of Car Festival, on the day of Bahuda Jatra (return car festival day), the chariots of Balabhadra and Subhadra are pulled directly to the Singha Dwara (Lion's Gate of Jagannth Temple), whereas the chariot of Jagannath stops in front of Mausima temple for a while. Here, Lord Jagannth accepts his favorite rice cake known as 'Poda Pitha' from his aunt. Other festivals like Mahasaptami, Mahasaptami, Mahanavami are also observed in Ardhasini temple.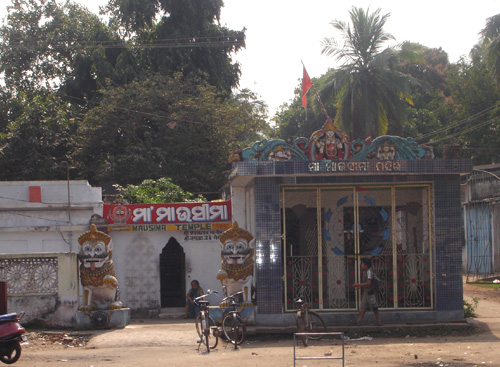 Front view of Ardhasini Temple / Mausima Temple