Panch Pandava Temples in Puri is the combined name of five temples dedicated to Lord Shiva. The temple gets the name Panch Pandava as the temples were built by the Pandavas of the Mahabharata. Legend has it that Pancha (five) Pandavas (Yudhishtira, Bhima, Arjuna, Nakula and Sahadeva) during their one-year exile-in-disguise period in the Mahabharata, visited and stayed at Puri for a night. They worshipped Shiva by making Shivalingas. The five temples were built to commemorate their stay in Shreekhetra.
The Pancha Pandava Temple in Puri is also known as Pancha Mahadeva Temple. The Pancha Mahadeva or Pancha Pandava Temples in Puri are Lokanatha, Markandeswara, Jameswara, Nilakantheswara, and Kapalamochana. In Krishna Lila, these five forms of Shiva appeared as Bhima, Arjuna, Yudhisthira, Nakula and Sahadeva.
As per the Skanda Puran here are the manifestation of Pandava's:
Jameswara Mahadev - Yuddhistira
Lokanatha Mahadev - Bhima
Markandeswara Mahadev - Arjuna
Kapalmochana Mahadev - Nakula
Nilakantheswara Mahadev - Sahadeva
The Pancha Shivas are the Dwarpalas (door keepers) of Puri and guarding the Holy City, reminding us of Sri Krishna and Pandavas who fought for the establishment of Dharma in Dwapara Yuga. Four temples are situated in the four corners of Puri while the fifth temple is in the center. The representative Deities of these five Shivas also accompany Lord Jagannath and go to Narendra tank during annual Chandana Yatra festival with Madana Mohana, Sridevi and Bhudevi.
Location of Pancha Pandava Temple in Sankha Khetra map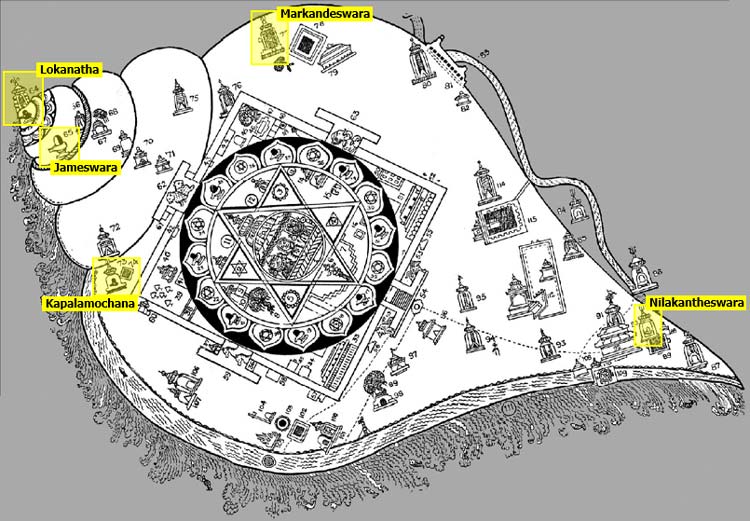 Location of Pancha Pandava Temple in Sankha Khetra map