Samanta Chandra Sekhar College
Samanta Chandra Sekhar (S.C.S) College is a pioneer autonomous college under Utkal University, founded in July 1944, stands on 8.5 acres of land in the heart of the city of Lord Jagannath, Puri. Samanta Chandra Sekhar stands as a symbol of indomitable quest for knowledge in the face of enormous odds. It was named as Samanta Chandra Sekhar, a luminary in the field of Astronomical Science.
The Institution situated in the heart of a lovely township has a charm of its won. It includes one main administrative cum academic block, a biology block, five hostels. It has a centrally located play ground with a visitors gallery and an auditorium, an IGNOU Study Centre, all encircled by a block of staff quarters and hostels. The college provides accomocdation for a post office, medical-aid-center and a guest house.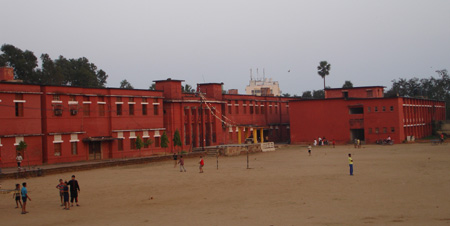 Samanta Chandra Sekhar (S.C.S) College, Puri
Shri Jagannath Sanskrit University
Shri Jagannath Sanskrit Vishvavidyalaya, the third Sanskrit University in India was established on 7th July, 1981 at Puri by the State Government of Odisha, with initiative of the Chief Minister of Odisha Dr. Janaki Ballav Pattnaik, beloved son of Odisha and a great lover of Sanskrit and Indian Culture. This Vishvavidyalaya has made very significant contributions to the world of knowledge and in the building up of skills, having been located in a natural settings of the scenic beauty, being ideally built for serious study and research in the field of the most ancient language (Sanskrit) sceience and culture of the world. Its majestic edifice of library symbolises the leadership and commitment to seek through the highest truth, to upset the old dogmas in the society by means of valid knowledge, to be the troch bearer to lead its youth on right path to achieve almostall humanstic goals. The University campus is known as 'Shri Vihar'. It covers an area of one hundred acres of land in the Balukhand mouza in Puri town.