| | |
| --- | --- |
| Famous for | Temple of Lord Shiva & Lovely Sea Beach |
| Nearest Attractions | Chandrabhaga, Ramachandi, Konark, Balighai |
| Famous Events | Mahashivaratri |
| State | Odisha |
| Country | India |
| Located at | Eastern Coast of Odisha |
| Distance From Puri | 14 KM |
| Mode of Transport | Road (Bus and Taxi) |
| Nearest Airport | Bhubaneswar - 74 KM |
| Best Time to Visit | Round the Year |
| Local Language | Odia |
| Other languages | Hindi, Bengali and English |

One of the sacred tourist destination of Puri , Beleswar (alternatively spelt as Beleshwara) is a small village situauted at 14 kilometers from Puri on the Puri-Konark marine drive road. The exact geographical location of this village is LONGITUDE 850 94' 22" E and LATITUDE 190 83' 13" N. Beleswar is famous for both religious sanctity alongwith scenic beauty.
It is famous for the Lord Beleswar Temple. This temple is dedicated to Lord Shiva and he is worshipped here as Beleswar. In ancient time, puri was a place of Saiva worship. From architectural point of view, Beleswar temple is not important but from the religious point of view, it is one of the famous Shaiva shrines of Puri. Mahashivaratri is the famous festival celebrated here. On this day thousands of devotees arrive near the temple to offer their prayer to Lord Beleswar with great devotion.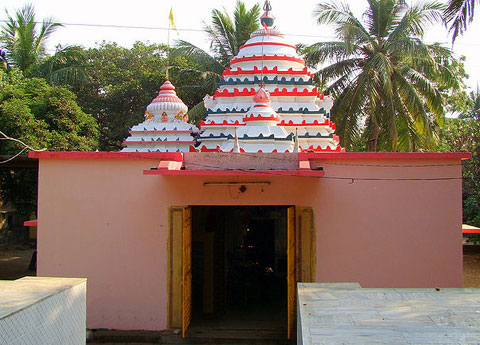 Lord Beleswar Temple
Beleswar is situated by the side of the Bay of Bengal, so it is also famous for the lovely and long sandy beach. It attracts lots of visitor to enjoy the natural scenery of the beach and to seek divine blessings. The sunrise and sunset site of beleswar beach is incredible for touristis. Tourists can also enjoy sunbath on the calm and quite sea beach. The scenic beauty of this place is ideal for group picnic. Through out the year many visitors come here to get the blessing of Lord Shiva and to enjoy the scenic beauty of the beleswar sea beach. Tourist can enjoy the natural beauty of Puri-Konark marine drive while driving.
Aerial view of Lord Beleswar Temple and the near by Sea Beach